The season 2019 comes to an end and already the big research for all of us starts not only for the right, but also for the PERFECT equipment for the next season 2020. November 11th – a perfect day to paint your racket.

Finally, there are many myths to interpret the 11th of November. True and false can no longer be separated from each other. But one thing is clear: there are colourful celebrations in the most regions in Germany. It's is the beginning of the carnival season. Let's bring carnival on court 😉
"How about an individual racket, that differs fundamentally from others and is customized by yourself?"
Let's be clear. I am super happy with my new Blade 98 v7 (model: 16×19). I choose this racket because I need more power for my service and more spin control. The unstrung weight (305g) and balance (32cm/7pts HL) are perfect for me.
"Today everybody talks about customization. But aren't we all overwhelmed with finding out the right weight, the perfect balance or stiffness for ourselves? Let's focus in colours."
Why not just choose the perfect model (Blade 98v7 16×19) and personalize it for yourself. Make it happen with #WilsonCustom. You get to select the paint color scheme, the paint finish and the color of the grommets.
8 Steps To Customize Your Racket
2. Select Your Frame Color
3. Select Your Top Of Hoop Colour
4. Select Your 3&9 Decals
5. Select Bumper & Grommets
6. Select Logo
7. Select Grip Size & Color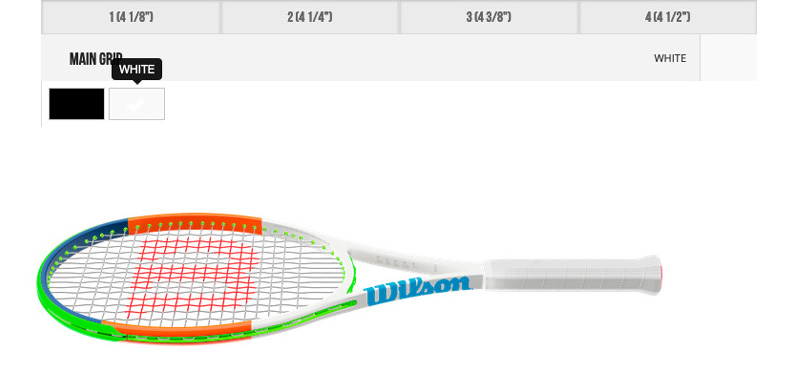 8. Select Personalization
THERE TS IS: YOUR CUSTOM
Once you have designed your individual racket your need to place your order on www.wilson.com/custom. Order by 11/15 and receive your custom racket by 12/24.
I am #inlovewithWilsonCustom
---
See my different models and let's yoursefl be suprised which racket I choose at the end. There are more than 1.000 variants. Lets have a look on various custom designs of other #TeamWilson players around the world.
 

 

Sieh dir diesen Beitrag auf Instagram an

 
 

 

Sieh dir diesen Beitrag auf Instagram an

 
 

 

Sieh dir diesen Beitrag auf Instagram an

 
 

 

Sieh dir diesen Beitrag auf Instagram an

 
 

 

Sieh dir diesen Beitrag auf Instagram an

 
 

 

Sieh dir diesen Beitrag auf Instagram an

 
 

 

Sieh dir diesen Beitrag auf Instagram an

 
 

 

Sieh dir diesen Beitrag auf Instagram an

 
 

 

Sieh dir diesen Beitrag auf Instagram an

 
 

 

Sieh dir diesen Beitrag auf Instagram an